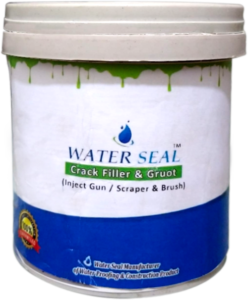 Crack Filler is known as elastomeric coating , flexible single pack waterproofing membrane made out of 100% pure acrylic polymers. It is used to fill Hair line cracks on walls and terrace. It provides a smooth and sheen finish to all surfaces.
Suitable for joint sealing wood floor installation mold proof etc. Multipurpose gap filler and joint based on special polymer. It is very easy to
apply to fill the gape and joints subject to a limited amount of movement, such as:
Concrete Panel
Walls and Roof Cracks
Wood Gap Filler
Metal Joints Filler
Can be use for Building cracks, Concrete Roof, Metal Roof, Wood Cracks asbuster joint, Rataining Walls and Other surfaces.
Remove and clean all existing material with a scraper property from the surface.